On June 22nd at 1:00pm executives are invited to participate in an interactive online workshop presented by experts in the fields of cyber-security and cyber insurance. The session will focus on securing the remote workforce and home office and promote an understanding of how cyber insurance fits into an overall cyber security strategy. Participants can register at www.lbwinsurance.com.
LBW Insurance and Financial Services and the Pepperdine Graziado School of Business are partnering to bring this executive education opportunity to the business community. Three cyber specialists will present the program. The first is the Deputy Chief Information Security Officer for the County of Los Angeles, Jeffrey Aquilar, MBA, CISM, CRISC, CDPSE. Second is Howard Miller, CRM, who is the director of the Tech Secure® division of LBW Insurance and Financial Services. The third industry expert is Charla Griffy-Brown, PhD, a professor of Information Systems and Technology Management at Pepperdine's Graziadio Business School.
Participating executives will be updated on today's cyber threat environment and what they need to know to be better protected. The first portion of the workshop will include briefs from the three industry specialists and the remainder of the session will be a customized interactive learning experience. The program will offer a risk-based approach to cyber insurance and how to implement cyber insurance as part of an overall strategy. Participants will also learn steps to secure today's remote workforce, especially focusing on securing the home office.
This 90-minute online workshop is for Board and Executive leadership and is designed to educate and reinforce the tools needed to sustain organizations in an emerging post pandemic cybercrime environment.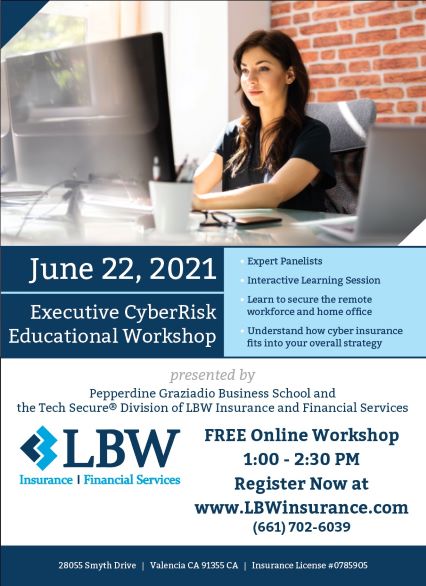 About LBW Insurance and Financial Services
Founded in 1922, LBW Insurance and Financial Services provides Property & Casualty, Life, Health, Long Term Care and Disability insurance as well as a complete range of financial services for both businesses and individuals. Headquartered in Valencia, the firm is licensed in all 50 states and is appointed with more than 100 insurance carriers.
About Pepperdine University Graziadio Business School
For more than 50 years, the Pepperdine Graziadio Business School has challenged individuals to think boldly and drive meaningful change within their industries and communities. Dedicated to developing Best for the World Leaders, the Graziadio School offers a comprehensive range of MBA, MS, executive, and doctoral degree programs grounded in integrity, innovation, and entrepreneurship. The Graziadio School advances experiential learning through small classes with distinguished faculty that stimulate critical thinking and meaningful connection, inspiring students and working professionals to realize their greatest potential as values-centered leaders.