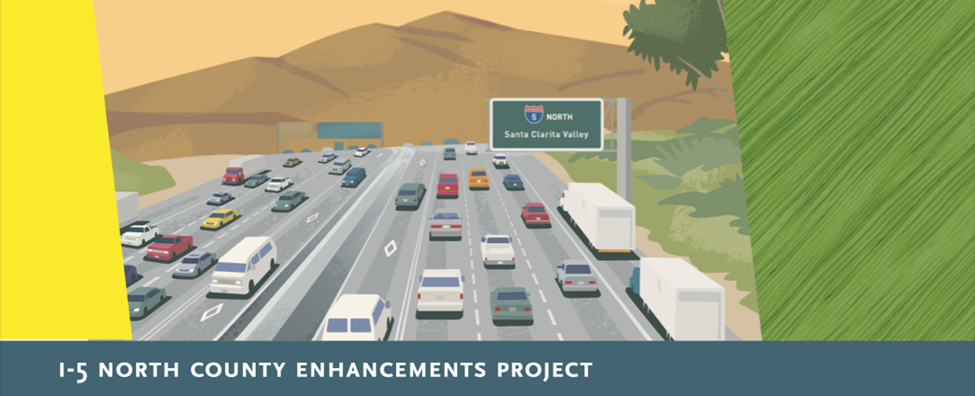 Construction Update Community Meeting: Save the Date

Join Metro's I-5 North County Enhancements Project for the next community meeting to receive updates on the construction activities along the I-5 freeway.   

Project staff will outline upcoming construction timelines and provide an update on activities in the Santa Clarita Valley and North LA County communities. We look forward to hearing your questions, comments, and to keeping you informed for the duration of construction. | More Information

Wednesday, May 24, 2023, 6PM to 7:30PM
Zoom Link: us02web.zoom.us/j/99714777647
Webinar ID: 997 1477 7647
Call-in: (213) 338-8477

Special accommodations are available to the public for Metro-sponsored meetings. All requests for reasonable accommodations and translation must be made at least three working days (72 hours) in advance of the scheduled meeting date.
---
Prepare for weeknight intermittent lane reductions in both directions between SR-14 and Parker Rd from 8PM to 6AM to support all the below activities on I-5. Crews begin mobilizing at 6am and work hours are 7AM to 4PM and 7PM to 6AM on weekdays, and Saturdays as needed.

SR-14 to Magic Mountain Pkwy
Weldon Canyon Rd bridge deck and rebar work. One-way traffic control with a flagger will be used as needed at Weldon Canyon Rd/Coltrane Av. | Full Notice

Southbound outside shoulder excavation, shoring and retaining wall work between Weldon Canyon Overcrossing and Calgrove Bl. Prepare for intermittent closures of southbound Calgrove Bl on- and off-ramps. View the full construction notice for schedule and detour routes. | Full Notice

Electrical work for light pole foundation at McBean Pkwy and Lyons Avenue/Pico Canyon Rd on- and off-ramps. View the full construction notice for schedule and detour routes. | Full Notice

Gavin Canyon Undercrossing bridge foundation work along the northbound I-5 shoulder between Calgrove Bl and Weldon Canyon Rd. Activities include steel rebar, forming, pour, and utility work. | Full Notice

Center median retaining wall construction. Activities include excavation, backfill, shoring, form, and concrete placement between SR-14 and Magic Mountain Pkwy. | Full Notice

Butte Canyon bridge falsework removal in the center median between Pico Canyon Rd/Lyons Av and McBean Pkwy, adjacent to Vista Valencia Golf Course. | Full Notice

Magic Mountain Pkwy to Parker Rd
Rye Canyon Rd crane relocation, excavation, and pile driving between The Old Road and Avenue Stanford. Prepare for daytime lane closures Monday through Friday and full nighttime closures, anticipated Monday, May 15 and Tuesday, May 16 from 7PM to 5AM. | Full Notice

Weldon Canyon Rd Bridge falsework removal, requiring multiple weeknight directional closures between SR-14 and Calgrove Bl from Monday, May 22 through Thursday, June 1 from 10PM to 4AM each night. View full construction notice for schedule and detour routes. | Full Notice

Castaic Creek bridge deck concrete placement and backwall construction in the center median between SR-126 and Hasley Canyon Rd. | Full Notice

Center median roadway base activity between Magic Mountain Pkwy and SR-126. | Full Notice
---
Essential Details   
Work hours: Monday through Friday and Saturday, as needed from 7AM to 4PM and 7PM to 6AM. Crews will begin to mobilize at 6AM.   
No two consecutive ramps in the same direction will be closed at the same time. Detours to the next on-ramp will be posted for each closure.   
Traffic will be maintained in each direction.    
All lanes will reopened by 6AM each morning.
No lane closures will be implemented during morning or evening peak traffic hours.   
The speed limit in construction work zones is reduced to 55 miles per hour.   
Noteworthy   
Access to emergency responders will be maintained. Construction is a dynamic process, it is subject to weather conditions, and information is subject to change, visit the project website for the most up to date information and a weekly listing.