We are truly excited to share a remarkable achievement that reinforces our commitment to excellence. Vance Wealth has been recognized as an Inc. 5000 award honoree for 2023, a testament to our unwavering dedication to providing exceptional financial services.
Discover More in Our Press Release
At Vance Wealth, our focus has always been on elevating the financial well-being of families and businesses. Our journey from inception to becoming an Inc. 5000 honoree has been a testament to our commitment to delivering personalized solutions and sound financial strategies.
As we continue to expand our horizons, we invite you to join us on this exciting journey. Together, we can explore how our expertise can be tailored to support your unique financial goals. Vance Wealth is not just a name; it represents our dedication to helping build financial security and fostering prosperous financial futures for all our clients, inspiring them to achieve more.
We remain steadfast in our mission to empower individuals and businesses with the knowledge and tools they need to achieve their financial aspirations. Take the next step in your financial journey by booking an appointment to meet our team and discover how we can help you achieve even greater success. Thank you for considering Vance Wealth as your potential financial partner.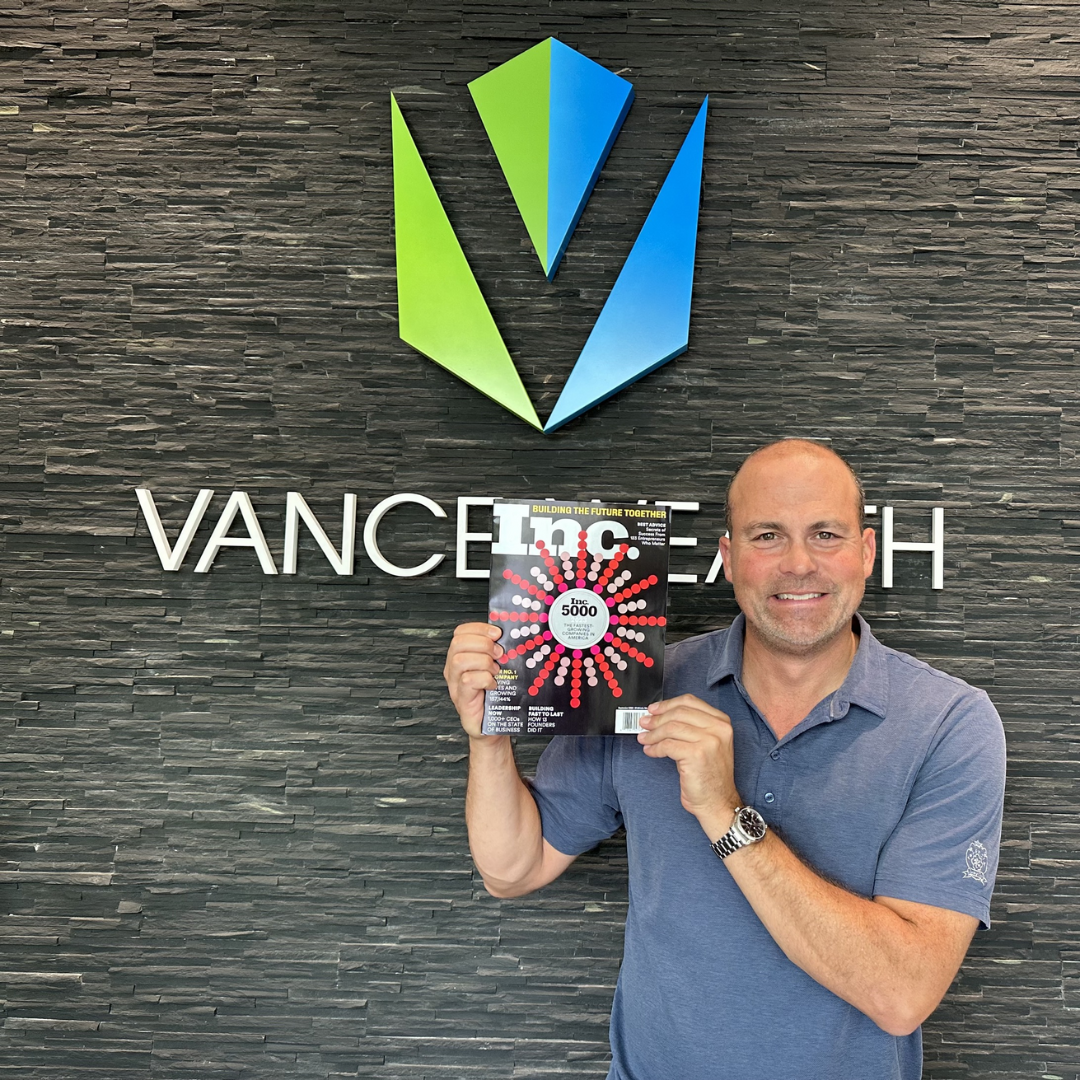 Disclosures: Vance Wealth, Inc. ("Vance Wealth") is a registered investment advisor. Advisory services are only offered to clients or prospective clients where Vance Wealth and its representatives are properly licensed or exempt from licensure. Being named an Inc. 5000 Company is designated by Inc. Business Media, awarded in 2023. Working with an Inc. 5000 recipient advisor or wealth manager is no guarantee as to future investment success, nor is there any guarantee that the selected wealth managers will be awarded this accomplishment in the future.
Methodology: Companies on the 2023 Inc. 5000 are ranked according to percentage revenue growth from 2019 to 2022. To qualify, companies must have been founded and generating revenue by March 31, 2019. They must be U.S.-based, privately held, for-profit, and independent—not subsidiaries or divisions of other companies—as of December 31, 2022. (Since then, some on the list may have gone public or been acquired.) The minimum revenue required for 2019 is $100,000; the minimum for 2022 is $2 million. As always, Inc. reserves the right to decline applicants for subjective reasons. Growth rates used to determine company rankings were calculated to four decimal places.
About Inc.: Inc. Business Media is the leading multimedia brand for entrepreneurs. Through its journalism, Inc. aims to inform, educate, and elevate the profile of our community: the risk-takers, the innovators, and the ultra-driven go-getters who are creating our future. Inc.'s award-winning work reaches more than 50 million people across a variety of channels, including events, print, digital, video, podcasts, newsletters, and social media. Its proprietary Inc. 5000 list, produced every year since 1982, analyzes company data to rank the fastest-growing privately held businesses in the United States. The recognition that comes with inclusion on this and other prestigious Inc. lists, such as Female Founders and Power Partners, gives the founders of top businesses the opportunity to engage with an exclusive community of their peers, and credibility that helps them drive sales and recruit talent. For more information, visit www.inc.com.