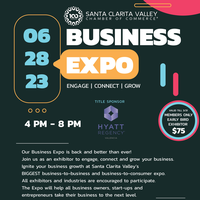 SANTA CLARITA, March 9, 2023 — The Santa Clarita Valley Chamber of Commerce today announced the return of its much-anticipated Business Expo. Open to all business sectors throughout the Santa Clarita Valley, the Business Expo returns on June 28th from 4:00 to 8:00 PM at the Hyatt Regency Valencia. The SCV Chamber also thanks the Hyatt for being the Title Sponsor for this year's event. The Expo is free and open to the public to attend.
"Our Business Expo provides business with the opportunity of both business-to-business and business-to-consumer connections," said Becki Robb, 2023 Chair of the SCV Chamber Board. "The Expo is a business-focused community event aimed at bringing together residents, business owners, and entrepreneurs to support business growth throughout the Santa Clarita Valley."
The Chamber's valley-wide Business Expo is Santa Clarita's largest business event and premier opportunity to connect businesses, organizations, and the Santa Clarita community face-to-face. The Business Expo will give a chance for exhibitors to engage, connect, and grow their business and ignite their entrepreneurial spirit. It will give a chance for the full community to see some amazing businesses all in one place and learn about new offers, products, and services.
"We're excited to bring back our region's largest business-to-business and business-to-consumer Expo, as hundreds of businesses and individuals attend, giving your business a chance for promotion and gain exposure," said Ivan Volschenk, President/CEO of the SCV Chamber. "Exhibitors will reach hundreds of prospective clients, colleagues, and professionals in a wide range of industries and explore new opportunities promoting their business to the region. Attendees will enjoy making new leads with companies doing business throughout our amazing valley."
Early Bird registration for the Business Expo is currently open for SCV Chamber members, at a discounted rate of $75. This rate is available until Friday, March 31st. Registration will then be open to all businesses, the fee for an exhibitor is $125 for members, and $200 for non-members. To register, please visit www.scvchamber.com and click on the Events tab.
Sponsorships for the Business Expo are also available. Prime locations will be part of sponsorships. Please reach out to hello@scvchamber.com for more information and details. The SCV Chamber is also requesting any members who would like offer discounts to exhibitors on marketing, printing, or promotional items for the Business Expo to reach out to hello@scvchamber.com for more information to be promoted.
ABOUT THE SANTA CLARITA VALLEY CHAMBER OF COMMERCE
The Santa Clarita Valley Chamber of Commerce is the largest business membership organization in the Santa Clarita Valley representing more than 65,000 member employees. The Chamber serves as "The Voice of Business" working as the SCV's leading business advocacy organization in the third largest city in the County of Los Angeles. Founded in 1923, the Chamber works to advocate for, educate and connect the business community.
# # #
---