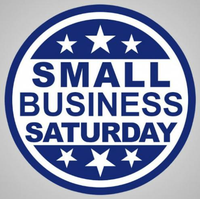 SANTA CLARITA, November 12, 2019 — The SCV Chamber of Commerce announced today their participation as a 'Neighborhood Champion' in the 10th Annual Small Business Saturday, to encourage local residents to make a big impact by shopping small. The SCV Chamber will lead the charge in bringing the community together to support local, small businesses around the SCV. Small Business Saturday takes place the Saturday after Thanksgiving, which will be November 30, 2019.
"We are pleased to announce our efforts to promote Small Business Saturday, which include a proclamation from our City Council, paseo banner posting around Santa Clarita and enrolling our community with the official Small Business Saturday Program," stated Nancy Starczyk, Chair of the Chamber Board. "Our involvement in making this day a success will bring a huge impact for our community and encourage new, local business to reside in the Santa Clarita Valley."
Included in the efforts of Small Business Saturday, the Chamber will be accepting a proclamation presented by the City Council today at 6:00 PM. We urge all local business to join us for this presentation to express how vital our local businesses are for our economy.
Furthermore, five paseo banners will be posted throughout Santa Clarita, to help promote the efforts and importance of Small Business Saturday.
"We are excited to rally our community together on November 30 and ensure we all shop and dine local to promote our small businesses and support the movement," stated Ivan Volschenk, Managing Partner of Evolve Business Strategies which manages the SCV Chamber. "With one purchase at a time, we are helping our community thrive and making a big impact by shopping small."
For more information about Small Business Saturday visit https://cutt.ly/small-business-saturday for more details.
ABOUT THE SANTA CLARITA VALLEY CHAMBER OF COMMERCE
The Santa Clarita Valley Chamber of Commerce is the largest business membership organization in the Santa Clarita Valley representing more than 65,000 member employees. The Chamber serves as "The Voice of Business" working as the SCV's leading business advocacy organization in the third largest city in the County of Los Angeles. Founded in 1923, the Chamber works to advocate for, educate and connect the business community.
# # #
---