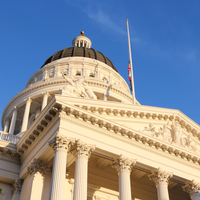 SANTA CLARITA, February 26, 2019 – The Santa Clarita Valley Chamber of Commerce announced its adoption of several policy priorities which will be the focus of the Chamber's advocacy efforts for 2019.
"The Chamber is proud to establish our 2019 priorities that we believe best our members and the overall business community in the Santa Clarita Valley," stated Nancy Starczyk, 2019 Chair of the Board for the Chamber. "We want to reflect our pro-business position, which is why our priorities include protecting and creating jobs, increasing transportation funding, and supporting housing development at all economic levels. Each policy issue was diligently reviewed for how we can address them this year."
Based on input and suggestions from the local business community, the Santa Clarita Valley Chamber's legislative priorities list includes advocacy efforts regarding the economy and jobs, land use, and transportation. It addresses important local and state policies, which largely impact the Santa Clarita Valley's business community.
"The Chamber strongly advocates for these policy positions," said (I think either John Musella or Hunt Braly). "Working closely with elected officials and the business community, we intend to bring greater economic growth to the Santa Clarita Valley."
Attached is the full list of the Chamber's legislative priorities.
ABOUT THE SANTA CLARITA VALLEY CHAMBER OF COMMERCE
Founded in 1923, the Santa Clarita Valley Chamber of Commerce is the leading business advocacy organization in the Santa Clarita Valley representing more than 65,000-member employees and the third largest city in the County of Los Angeles.
# # #
---