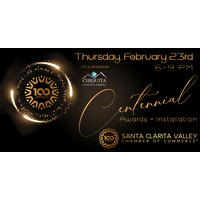 SANTA CLARITA, February 7, 2023 — The Santa Clarita Valley Chamber of Commerce today announced their 2022 businesses award recipients who will be honored at the Centennial Celebration Awards + Installation on Thursday, February 23, 2023 at the Canyon Country Community Center. Chiquita Canyon returns as Title Sponsor and Kaiser Permanente as the reception sponsor.
The Business Choice Awards nominations were open to the Chamber's membership and general business community to vote upon. This year we received a record number of nominations. An Awards Selection Committee reviewed all the nominations and made the final selections based on the criteria for each category. Below are the honorees for the 2022 Business Choice Awards:
BUSINESS OF THE YEAR: Vance Wealth
ENTREPRENEURIAL SPIRIT: Newleaf Training and Development
RISING STAR:Statham Academy
NON-PROFIT OF THE YEAR: Make the World a Better Place
"We thank everyone who nominated this year and encourage those whose nominees were not chosen to nominate again next year. Each nominee was worthy of recognition," said Becki Robb, Chair of the SCV Chamber Board. "We believe this year's honorees are an outstanding representation of the strength, leadership and diversity of our business community."
In addition to The Business Choice Awards, the SCV Chamber will be honoring the following awardees:
LIFETIME ACHIEVEMENT AWARD: Senator Scott Wilk
PUBLIC SERVICE AWARD: Bill Miranda
CHERI FLEMING HEART OF THE COMMUNITY: Leon Worden
"We are excited to celebrate this year's honorees as part of the SCV Chambers Centennial. We are encouraged by the community's support and excitement in nominating so many worthy businesses," stated Ivan Volschenk, President/CEO of the SCV Chamber. "We look forward to a special evening of celebrating these honorees and our entire business community on February 23".
This year's Centennial and Platinum sponsors include: Burrtec Waste Industries, City of Santa Clarita, Kiwi Restaurant Partners, Sand Canyon, SchlickArt Photography and Video, SCV Locations, SCVTV, Shadowbox Studios, Six Flags Magic Mountain, SoCalGas, Supervisor Kathryn Barger and Vance Wealth. To sponsor or get more information you can email hello@scvchamber.com.
Tickets for the Centennial Celebration Awards + Installation can be purchased at www.scvchamber.com/events.
ABOUT THE SANTA CLARITA VALLEY CHAMBER OF COMMERCE
The Santa Clarita Valley Chamber of Commerce is the largest business membership organization in the Santa Clarita Valley representing more than 65,000 member employees. The Chamber serves as "The Voice of Business" working as the SCV's leading business advocacy organization in the third largest city in the County of Los Angeles. Founded in 1923, the Chamber works to advocate for, educate and connect the business community.
# # #
---