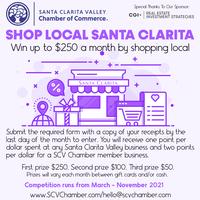 SANTA CLARITA, March 10, 2021 — The Santa Clarita Valley Chamber of Commerce today announced their Shop Local campaign, which is set to take place starting this month and last for the full year. The campaign is designed to encourage residents of the Santa Clarita Valley to shop local, and then submit their receipts to the Chamber to accumulate points. Top three winners for each month will be awarded gift card and/or cash for $250, $100, and $50.
"We are pleased to launch this campaign in 2021 as we are working towards reopening our economy," stated John Vance, 2021 Chair of the SCV Chamber Board. "The Chamber is pleased to ensure our businesses can succeed and our ongoing efforts to support every business throughout the Santa Clarita Valley is maximized."
To participate, shoppers can email hello@scvchamber.com to receive the required submittal form that will be turned in with a copy of your receipts each month. Forms and receipts may be scanned and emailed to the Chamber. One point per dollar spent will be allocated and two points per dollar spent will be allocated if at a Chamber-member location. At the end of each month, the top three winners will be announced with their respective prize.
This campaign would not be possible without our local businesses sponsoring and supporting the SCV Chamber's efforts. We are pleased to thank our Annual Sponsor CGI+ | Real Estate Investment Strategies. Our monthly sponsors include Supervisor Kathryn Barger, Logix Federal Credit Union, Scorpion, College of the Canyons, Westfield Valencia Town Center, and Lyfe Networks.
"The effort of all of us shopping locally makes a big difference and our goal is to inject extra cash flow into our local economy and support our local businesses," stated Ivan Volschenk, Managing Partner at Evolve Business Strategies, which manages the SCV Chamber of Commerce. "Our Santa Clarita Valley businesses have been through and overcome a lot, we hope this campaign will help them with their recovery. They are the backbone of our community."
The City of Santa Clarita encourages all local businesses to take the "Safer Business Commitment" as a part of the Shop Local initiative. After months of being shut down due to the COVID pandemic, many local businesses are now reopening their doors and want customers to know it is safe to Shop Local.
Santa Clarita Valley businesses can make the commitment by abiding to a set of safety guidelines and completing a short online form. Completing the form adds each business to a published list of "Safer" businesses. The list can be viewed at www.VisitSantaClarita.com/SaferBusinessCommitment to know which local businesses are committing to safety precautions for the safety of patrons and employees alike.
"It is a relief to see the number of COVID-19 cases is finally dropping," stated Santa Clarita Mayor Bill Miranda. "As many businesses will be able to reopen at a greater capacity, it is important for residents to eat and shop local. By supporting our Santa Clarita based businesses, we can keep our local economy strong, maintain our diverse shopping/dining options and help our neighbors who own, or work at, local businesses."
If you are interested in being a sponsor for our Shop Local campaign email hello@scvchamber.com for more details.
ABOUT THE SANTA CLARITA VALLEY CHAMBER OF COMMERCE
The SCV Chamber is the largest business membership organization in the Santa Clarita Valley representing more than a 65,000-member workforce. The Chamber serves as "The Voice of Business" working as the SCV's leading business advocacy organization in the third largest city in the County of Los Angeles. Founded in 1923, the Chamber works to advocate for, educate and connect the business community.
# # #
---