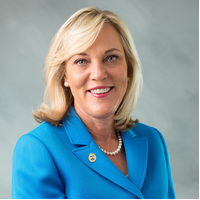 Santa Clarita, Calif. (January 21,2020) – The Santa Clarita Valley Chamber of Commerce Board of Directors today endorsed LA County Supervisor Kathryn Barger for re-election on Tuesday, March 3, 2020.
"We have developed a strong working relationship with Supervisor Barger over the last four years," said Nancy Starczyk, chair of the Board for the SCV Chamber. "She has proven to be a reliable and trusted advocate for business. Given her decades of County service, Kathryn has a strong understanding of the issues and how public policy can positively impact everyday lives. She is a true non-partisan leader who works to bring people together to build community with a commonsense approach to solving issues."
The primary election will be held on Tuesday, March 3, 2020. If Supervisor Barger wins 50 plus one percent of the vote, she will not face a runoff in November.
"The SCV Chamber is a pro-business advocacy organization that prides itself on working with elected officials from across the political spectrum," said Starczyk. "We work hard to get things done for business and we appreciate Supervisor Barger's non-partisan approach to getting things done for her constituents. She understands that it's not about politics. It's about people."
ABOUT THE SANTA CLARITA VALLEY CHAMBER OF COMMERCE
The Santa Clarita Valley Chamber of Commerce is the largest business membership organization in the Santa Clarita Valley representing more than 65,000 member employees. The Chamber serves as "The Voice of Business" working as the SCV's leading business advocacy organization in the third largest city in the County of Los Angeles. Founded in 1923, the Chamber works to advocate for, educate and connect the business community.
# # #
---