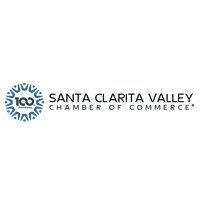 In honor of the 100-year anniversary, the SCV Chamber has unveiled a rebranded logo to celebrate the Centennial in 2023.
SANTA CLARITA, November 17, 2022 — The Santa Clarita Valley Chamber of Commerce today unveiled their 100-year rebranded logo, to help mark their Centennial anniversary. The SCV Chamber was founded in February 1923 and has since grown to be the largest and most influential business membership organization in the Santa Clarita Valley, serving as The Voice of Business for the third largest city in Los Angeles County.
"It's been an honor to close out our 99th year and help gear the SCV Chamber board for our 100-year anniversary," said Dr. Chris Raigosa, Chair of the SCV Chamber Board. "Having been involved in the SCV Chamber for the past several years, it's been an honor to watch the Chamber continuously grow and become the lead organization it was meant to be."
Over the past 100 years, the SCV Chamber has thrived in advocating, educating, and connecting businesses throughout the Santa Clarita Valley. The SCV Chamber's Centennial logo represents the unity and inclusivity of our business community as well as the strength and prestige of Chamber membership. Through the SCV Chamber's Centennial design, the logo communicates a rich legacy of positive attributes in which the Chamber encompasses.
"This is a monumental time and accomplishment for the SCV Chamber, and our rebranded logo reflects the changes and modernization the Chamber has undergone over the last several years," said Ivan Volschenk, President & CEO of the SCV Chamber. "Celebrating a centennial deserved a new fresh look while ensuring the Chambers identity continues into our exciting next chapter of success."
The SCV Chamber will soon announce its 2023 Chair of the Board of Directors, as well as its celebration calendar for the Centennial. Be on the lookout for more news and information regarding the Centennial calendar, or email hello@scvchamber.com to be added to the email list.
ABOUT THE SANTA CLARITA VALLEY CHAMBER OF COMMERCE
The SCV Chamber is the largest business membership organization in the Santa Clarita Valley representing more than a 65,000-member workforce. The Chamber serves as "The Voice of Business" working as the SCV's leading business advocacy organization in the third largest city in the County of Los Angeles. Founded in 1923, the Chamber works to advocate for, educate and connect the business community.
# # #
---