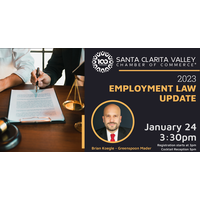 To ensure businesses are prepared for all the new state rules and regulations, the SCV Chamber will host the only local, fully comprehensive employment law update to discuss best business practices and requirements.
SANTA CLARITA, November 29, 2022 – The Santa Clarita Valley Chamber of Commerce today announced its 2023 Employment Law Update, scheduled for Tuesday, January 24, 2023, at the SCV Senior Center at Bella Vida. The Chamber is pleased to partner with Brian Koegle, Greenspoon Marder LLP, which is also the Title Sponsor for the program, as he provides strategic insight into legal matters California businesses will face in 2023.
"We are pleased to continue our partnership with Brian Koegle for the only comprehensive employment law update for the Santa Clarita Valley," said Dr. Chris Raigosa, Chair of the SCV Chamber Board. "Each year, the Chamber provides this program for our community to familiarize themselves with upcoming law changes to ensure they avoid pitfalls that could impact their business."
Doing business in California is a challenge, but understanding the rules and regulations, as well as the best practices to comply with those requirements, is an absolute necessity for any business leader to make fully informed decisions.
"It's always a pleasure to partner with the SCV Chamber of Commerce for this event. As we enter a post-pandemic phase, we see a return of laws being enacted that are not just COVID-related," said Brian Koegle, Partner at Greenspoon Marder LLP. "It's never easy navigating through the maze of regulations and cases applicable to California businesses. Compliance fatigue is a real thing for many business owners!"
Mr. Koegle will discuss the following:
The California Fair Pay Act – New pay transparency and reporting obligations.

Wage and Hour Update – Independent contractors, penalty pay and meal/rest periods.

New Family Leave Formulas and Rights.

California Consumer Privacy Act.

Cannabis Use and Discrimination Claims.

Retaliation rules related to employees refusing to work during public emergencies.

COVID-19 Updates – SPSL, notice to employees, Cal-OSHA reporting.
"Keeping up with ever changing California employment laws is imperative, and this program is vital for every business regardless of size or composition to attend. This value-added program provides our members and the business community invaluable information every business needs to be aware of as we start the new year and laws." said Ivan Volschenk, President and CEO of the SCV Chamber.
The event will take place on Tuesday, January 24, 2023, at the SCV Senior Center at Bella Vida. Tickets are available online at www.scvchamber.com under the Events tab. Registration will begin at 3:00 PM with the program commencing at 3:30 PM. After the program, guests are invited to a networking reception with appetizers wine and cocktails. For any questions, please email hello@scvchamber.com.
ABOUT THE SANTA CLARITA VALLEY CHAMBER OF COMMERCE
The SCV Chamber is the largest business membership organization in the Santa Clarita Valley representing more than a 65,000-member workforce. The Chamber serves as "The Voice of Business" working as the SCV's leading business advocacy organization in the third largest city in the County of Los Angeles. Founded in 1923, the Chamber works to advocate for, educate and connect the business community.
# # #
---